Ep 16 - Maschine Zeit Prequel Pt 1
CROMulent Heroes
3 years ago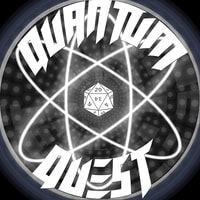 The crew of the DSS Prometheus are already heroes. They are the only five people to venture this deep into space. Their mission is to study the asteroid they are on and the space surrounding it. Unfortunately, not long after they arrive, weird signals start coming out of a nearby mining site and then communications start to go haywire. Is it just weird Deep Space stuff or is it something more sinister? Find out by pressing play NOW.
If you haven't already, please consider liking our facebook page. It's a fun place to interract with other fans. PLUS we post pictures and other updates you won't wanna miss.
Find out more on the Quantum Quest website.