Ep 14 - Cthulhu Dark Pt 4.1
Take me to Church
3 years ago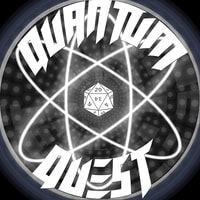 In the first half of the finale of Cthulhu dark, the gang fights off a bunch of angry people(?) in robes, Dot finds some knives but knows better than to run with sharp objects, and everyone tests out their diving skills.
If you haven't already, please consider liking our facebook page. It's a fun place to interract with other fans. PLUS we post pictures and other updates you won't wanna miss.
Find out more on the Quantum Quest website.