Ep 30 - Labyrinth Pt 4
It's all Greek to Me
2 years ago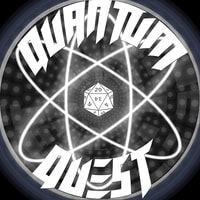 We get back to the task at hand, which, honestly, were not quite sure what that is but we're PRETTY sure it has nothing to do with being wild west dinos anymore.
Also, we meet more Greek people in the Labyrinth. Including someone's son and someone's mom. Are they each other's son/mom or others? Well, you'll have to listen to find that out.
If you haven't already, please consider liking our facebook page or our twitter. They're a couple great places to interract with other fans. PLUS we post pictures and other updates you won't wanna miss.
Find out more on the Quantum Quest website.