Ep 12 - Cthulhu Dark Pt 2
Just Keep Tuggin Along
3 years ago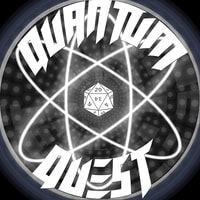 The team procures another boat for the next leg of their river adventure. A plan goes poorly and also well at the same time. Everyone has some dreams. There's a weird trucker dude who likes reggae. I honestly don't know how to describe this one.
If you haven't already, please consider liking our facebook page. It's a fun place to interract with other fans. PLUS we post pictures and other updates you won't wanna miss.
Find out more on the Quantum Quest website.