Ep 10 - Cthulhu Dark Prequel
DelaWHERE? More like DelaWHEN?
3 years ago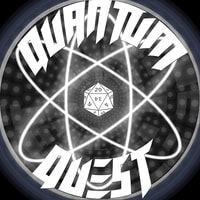 We begin our third arc by meeting some new friends. It's Wilmington, Delaware in February of 1941. Everything seems nomral.
Delila Moore just started working as secretary for the governor. Timothy Hawks is teaching at the local public school while 8th grader Dot Kindall is starting to explore the idea of liking boys. Rene McFerguson, Delila's sister, is busy volunteering just about everywhere. And Thed O'Hare is being his ususal obnoxtious self. But, when girls start going missing, this ragtag group heads into the woods to find out what exactly is going on.
If you haven't already, please consider liking our facebook page. It's a fun place to interract with other fans. PLUS we post pictures and other updates you won't wanna miss.
Also, please head to itunes and give us your review of the show. It'll really help us out.
Find out more on the Quantum Quest website.