Ep 19 - Maschine Zeit Pt 2
Orb You Glad I Didn't Say BanORBa?
3 years ago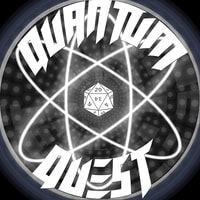 The crew of the Prometheus and the Jackal finally uncover what was at the dig site. When down in the hole, they discover some glyphs and a giant orb. You know, standard space stuff. Also, the Cinch gets a weird message from an unknown plane. Find out who it is by listening to this week's Quantum Quest.
If you haven't already, please consider liking our facebook page. It's a fun place to interract with other fans. PLUS we post pictures and other updates you won't wanna miss.
Also, if you would take a second to rate us on iTunes, we'd love that.
Find out more on the Quantum Quest website.